all I want to do is knit & listen to guster
It's been pretty hot here all week, which is a bummer, but today was my last day of work for 3 weeks, then I go back to work for the summer session. It's been really nice having all the lights off in the department & just listening to NPR, grading things, cleaning things, painting, knitting of course!

Speaking of knitting!!!

I'm in the california knitters ring & if someone from the ring could help me with the icon...for some reason I can only put it at the bottom of my screen & no icon shows up : C Anyone know of how I can fix this?

Several people have asked me lately if I'm on AIM, I am I am!! The name is intagliogrrreen. Please don't hesitate to message me!

Also on the knitting level!! I finished my felted market tote & for once I'm excited that I don't have my digital camera to capture its mess. Apparently I've added too many stitches or my yarn was too thick because the bag is perfect height, but its length is HUGE. & I put the handles in backwards...so I have to cut & reattach them. Not to mention the bag smells like mold. I'm determined to fix it though.

My friend Sarah, who's from Germany came to the department yesterday to have her slides shot & she saw me knitting and apparently she's been knitting for quite some time, so when we go to her Vegan Tea Party on the 11th we are going to talk knitting & she's getting me a copy of Rebecca knitting magazine, which is German.

I haven't started the Vogue knit tunic yet...in case you haven't seen this summers Vogue
here's a top view of the gal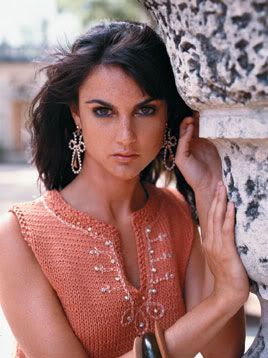 I think 'll be rather cute! granted, I'll make a few mistakes here & there, but thats ok!

I got my amazing silk in the mail & it's unspun, but I've been knitting my least favorite color into a necklace..I'm using the least favorite so I get used to the feel of it. It's actually coming out pretty nice, I'm going to stitch beads into it so it has a nice sparkle.

Lately I've been addicted to a few things...heres the list:

Guster..."Barrel of a Gun" is my ringtone, but strangely enough I heard them twice this week on NPR, both from the newer album so I'm kinda starting to like it, plus it reminds me of when me & Shanna were good friends.

Painting on wood...I've found some strange chunks of wood around the department this week so I've gessoed them & I plan on doing some neato little paintings

Harry Potter Spoilers...I really shouldnt love them...but I do...

Iced drinks from Dutch Bros...I love almond joy!!

So if anyone knows any HTML that can help me...on my computer my recent entry is right next to my profile...yada .yada...but on some computers its apparently at the bottom...boo!!!

if you offer help, leave your email or AIM since im retarded & have problems with the computer!!!

thanks!!!